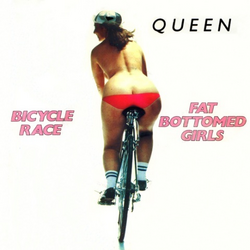 Bicycle Race is a song written for Freddie Mercury, in 1978 released for the album Jazz.
To released this song, Queen staged a bicycle race with 65 naked women. A clip from this race was used as the single cover. The video was orriginally banned, and the video hat to be re-edited with colour added to censor out anny offensive imagery. The song is fammed for its 'bicycle bell solo', which fans would often replicate live at Queen concerts with their own such bells.
It was released as a Double-A side with the song Fat Bottomed Girls. A still photograph from the naked bicycle race was used for the single cover, a pair of bikini bottoms crudely painted on the photo of the naked rider.