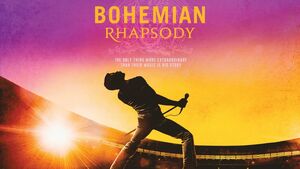 Bohemian Rhapsody is a 2018 film starring Rami Malek as Freddie Mercury named after the song Bohemian Rhapsody released as a single.
Bohemian Rhapsody tells the story of a man with musical passion named Farrokh Bulsara (who later changes his name to Freddie Mercury). He auditions for a band called Smile after their frontman left and succeeds. Freddie Mercury, Roger Taylor and Brian May perform Keep Yourself Alive in a bar before John Deacon going on to record studio albums which was at the time John Deacon joined as well. Queen becomes successful and go on tour after releasing songs like Killer Queen, Keep Yourself Alive, and Bohemian Rhapsody. After Freddie's performance of Love of My Life in the tour, he comes out to Mary Austin (his girlfriend) as bisexual. Mary breaks up with Freddie and goes on to marry another man. After years of performing with Queen, Freddie gets offered millions of dollars to make a solo album. He agrees and records songs for his album until hearing about the Live Aid concert. Freddie comes back to the band and apologizes for leaving Queen. The band accepts his apology and they practice for Live Aid. Then, after one of their rehearsals, Freddie tells the band that he has AIDS, but he wants to keep performing even with the illness. Queen go on to perform in Live Aid, the ending climax of the film.
Release and Reception
Edit
The film was released on 24 October 2018 in the United Kingdom and 4 November 2018 in the United States and Canada. Despite mixed reviews from critics, it has grossed over $900 million worldwide, becoming the highest-grossing biopic and drama film of all time. Rami Malek's portrayal of Freddie Mercury was critically acclaimed, earning him the Golden Globe Award for Best Actor in a Film - Drama, the Screen Actors' Guild Award for Best Actor in a Leading Role, the BAFTA Film Award for Best Actor, and the Academy Award for Best Actor. The film itself won the Golden Globe Award for Best Motion Picture - Drama, the BAFTA for Best Sound, and Academy Awards for Best Sound Editing, Best Sound Mixing and Best Film Editing.
In early 2019, the film was released in digital format, Blu-Ray and DVD. It became the fastest-selling digital download of all time in the United Kingdom. The full recreation of the Live Aid performance is included as a special bonus feature including "Crazy Little Thing Called Love" and "We Will Rock You."
Freddie Mercury: Rami Malek
Brian May: Gwilym Lee
Roger Taylor: Ben Hardy
John Deacon: Joe Mazzello
Mary Austin: Lucy Boynton
Jim Hutton: Aaron McCusker
Community content is available under
CC-BY-SA
unless otherwise noted.