Template:Wikipedia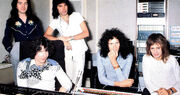 Roy Thomas Baker (born on 10 November 1946, in Hampstead, London, England) is an English record and music producer, songwriter, arranger and Recording Academy governor, who has produced pop and rock records since the 1970s.
After co-founding Neptune (Trident's record company), Baker met a band that would eventually be known as Queen. He began a working relationship that lasted for five albums (Queen, Queen II, Sheer Heart Attack, A Night at the Opera and Jazz) and a number of awards – including Grammy Awards and The Guinness World Records for the best single, "Bohemian Rhapsody".
Following his successes with Queen and other artists Baker signed a multi album production deal with CBS Music (Columbia Records, Sony Music, Epic Records, etc.). He then proceeded to move to the US and set up The RTB Audio Visual Productions' Offices in New York and Los Angeles. At this time under his new CBS deal RTB produced Journey, Starcastle, Reggie Knighton (The Grass Roots), Ian Hunter and Ronnie Wood (The Rolling Stones).
Discography
Edit
Community content is available under
CC-BY-SA
unless otherwise noted.